Trees are among our planet's most dynamic environmental champions, providing nourishment, support, and benefits for the environment around them. Simply put, healthier trees equal a healthier environment. Specifically, routine tree maintenance and care help to reduce competition for local resources, improve animal habitats, and purify the air. To remain environmentally conscious and improve your local ecosystem, turn to a professional tree trimming service.
Timber Works provides outstanding tree care services in Arlington, VA, to help landowners tackle any arboreal problems. Indeed, we exceed expectations through a positive attitude, determination, and strong work ethic. Customer satisfaction sits at the center of every project we do. To get a free project estimate, contact us at (540) 692-9606 or visit our website.
How Do Neglected Trees Affect the Environment?
Trees that lack proper care can threaten the local environment. They may disturb wildlife, compete with nearby trees, and deplete nutrients from the soil around them. Furthermore, rotting or dangerous trees may fail to offer a home for the animals that take a liking to them—birds, squirrels, and insects.
When they receive no trimming, pruning, or routine inspections, trees can suffer from rot, fungi, and other harmful diseases. Disease-affected trees can spread their afflictions to others nearby, decimating a copse. Moreover, a neglected tree's limbs, branches, and leaves may take the nutrients that other plants require.
The Benefits of Tree Trimming
Reduces Competition for Resources
Like all wildlife, trees must fight for sustenance. Thus, overcrowded trees may receive insufficient sunlight and water, causing physical distress. Such rivalry makes them prone to attacks from insects, disease, and drought.
Routine tree trimming can mitigate all of the issues outlined above. We suggest trimming early in a tree's life, before problems even arise, in particular. Older trees, weakened by competition, are more challenging to maintain.
Improves Habitats for Animals
Where trees grow, wildlife follows. Proper tree care, especially trimming, helps enhance growth diversity and creates an environment where animals and vegetation can thrive. Properly maintained trees are ideal homes for birds and squirrels.
That said, do not try to trim your own trees. Tree trimming is a precise science, best handled by a professional tree service.
Trees absorb ammonia, ozone, sulfur dioxide, nitrogen oxide, and other pollutants, allowing people to breathe clean air needed for healthy living. Moreover, trimmed trees filter particulate matter out of the air by trapping it in their bark and leaves. The healthier your trees, the better they can circulate air and absorb toxic gasses. Moreover, trees in urban areas cycle high levels of carbon dioxide, as these regions tend to suffer from that gas at increased levels.
Improves the Health of Your Trees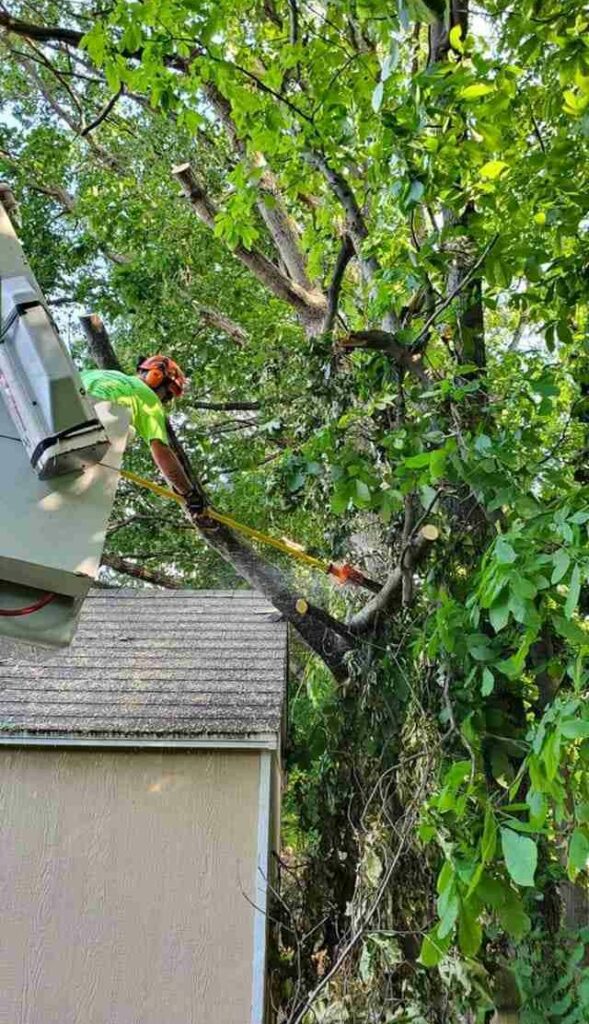 A large tree is not necessarily a healthy one. Yet proper maintenance and trimming allow it to absorb essential nutrients from the soil or ground. The overall health of trees that receive insufficient nutrients can deteriorate, just like in humans!
Cutting off larger branches can help you maximize the use of nutrients in your trees. Nevertheless, turn to a professional tree trimming service to determine which should be trimmed and cut.
Affordable and Professional Tree Trimming Services in Arlington, VA
Being environmentally conscious can pay off for all landowners. Routine tree trimming is an excellent way to maintain your trees while putting your local environment first. Timber Works provides top-notch tree trimming services and more for residents of Arlington, VA. Our certified arborists have served residents in Northern Virginia for over 35 years with professionalism and expertise. To learn more or to get a free estimate, contact us at (540) 692-9606 or visit our website today!