Spring is a beautiful season but also demands a lot of time from property owners, especially those with numerous trees. The harsh winter weather's subsidence results in trees becoming vibrant, fertile, and hungry for nutrients. Proper tree care not only keeps your landscape looking beautiful but also promotes your trees' health and longevity. Therefore, take the time to inspect, fertilize, water, and mulch your trees this spring. Moreover, enlist the help of a local tree care service to ensure your trees stay healthy and happy.
Timber Works Tree Care offers Leesburg, VA, residents comprehensive spring tree services. Our experienced team of tree specialists has the knowledge, skill, and equipment to handle any arboreal needs that may arise. From stump removal to power line trimming, we offer high-quality tree care solutions that help you maintain a safe and attractive landscape throughout the year. For a free project estimate, call Timber Works at (540) 692-9606.
Below, we list 5 spring tree care tips:
1. Inspect Your Trees
The first step in your spring tree care checklist is to inspect your trees. Check for common signs of damage like deadwood, leaf discoloration, storm damage, or other indications of tree stress. You should also note leaf discoloration, odd growths, roots coming up through the soil, and other potential issues. Remember that every tree grows in a particular way, so "healthy" trees may appear distinct from one another.
Also, hire an arborist to thoroughly inspect your trees, identify issues, and provide an appropriate remediation plan. They may suggest removing damaged, dead, or infected branches, which can harbor pests and diseases that often spread to other trees.
2. Fertilize Your Trees
Spring is an ideal time to fertilize trees with the nutrients necessary to grow healthy leaves, flowers, and fruit. Yet choosing the right fertilizer for your trees depends on their species, location, and soil type.
For instance, a slow-release fertilizer may be appropriate during springtime to provide long-lasting nutrients throughout the growing season. However, fertilizing too much, too soon, or too late can damage your trees or encourage pests. Consult with our arborists to determine the appropriate lawn fertilizer and technique.
3. Water Your Trees
Spring can be a time of rapid growth for trees, but they require a proportionate amount of water to thrive. In general, water your trees once a week in the absence of rainfall. Young trees and those in hot regions, particularly in the South, need more water than others.
Yet avoid overwatering, which can lead to waterlogging and root rot. Determining the correct amount of hydration requires expert insights—ask a tree care specialist to help you determine how much to water your trees depending on their age, location, species, and more.
4. Mulch Your Trees
While proper watering penetrates deep into the soil and promotes healthy root growth, mulching can help that moisture remain underground and improve the soil quality around your trees. A mulch layer also helps to suppress weeds, avoid soil compaction, regulate soil temperature, and combat erosion.
You should generally use organic mulches such as wood chips, leaves, or compost and avoid inorganic mulches such as rocks, gravel, or rubber. Additionally, turn to a tree care team for heavy-duty forestry mulching jobs, bush hogging, and stump grinding—all of which produce a rich byproduct that serves as mulch for your trees.
5. Observe Your Trees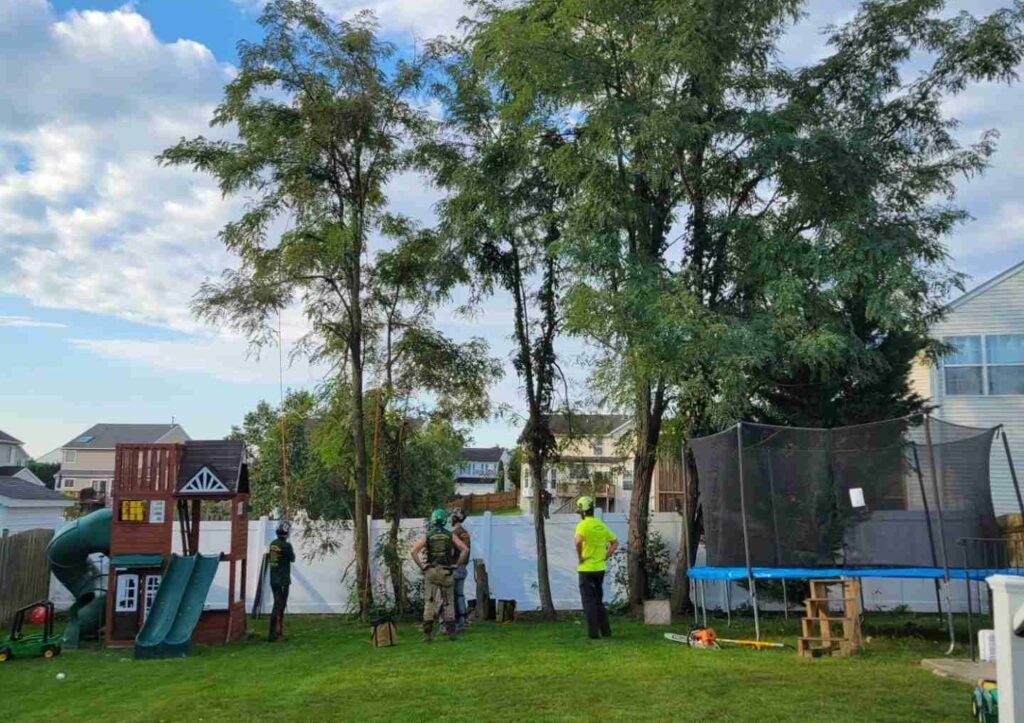 Many pests and diseases are active in the spring, especially in moist or humid climates. Watch out for unusual signs such as discoloration, wilting, or damage that could indicate pest infestations, fungal infections, or viral diseases. Further, continue to do so throughout the spring and following seasons. If you suspect any problems, contact an arborist to identify and treat the issues.
Professional Tree Care Services in Leesburg, VA
Proper spring tree care keeps trees healthy and beautiful. Timber Works Tree Care can help guide you throughout your spring tree care plan and handle all the heavy lifting. Our experienced arborists provide expert advice, guidance, and support. Moreover, our skilled team can remove trees, branches, stumps, brush, and more. With some TLC from Timber Works, your Leesburg, VA, trees can thrive this spring. Begin your spring tree care today by calling (540) 692-9606.