Trees on your property can provide you with privacy, shade, and protection from wind. However, those planted too close to your home can also cause termite, foundation, water, sewer line, impact, and other kinds of damages. Yet a professional tree care company can provide tree trimming services and complete tree removals to avoid adverse outcomes.
Haymarket, VA, residents can count on Timber Works Tree Care for their tree service needs. We offer thorough tree inspections to determine and deliver the services your trees require. Our licensed, insured, and experienced team approaches each project with care and attention. Moreover, Timber Works prioritizes safety and customer satisfaction. Contact us at (540) 692-9606 for a free consultation and estimate.
Below, we discuss how to determine whether trees are too close to your home and the hazards such trees present:
How Trees Can Harm Your Home
Foundation Damage: While impervious surfaces—like house foundations—tend to withstand the advances of tree roots, they can come under heavy pressure from large roots over long periods. Roots usually grow horizontally, but they will reach downward in regions of loose soil. Thus, the backfilled soil surrounding and beneath a house offers optimal space for downward root growth, which can lead to foundation damage.
Water & Sewer Line Damage: If your water or sewer line is cracked, tree roots can damage it further. Cracked pipes leak nutritious moisture into the soil, and tree roots will grow towards the moisture's source. Once outside the pipe, the roots can grow into the line itself.
As they do to home foundations, tree roots can also damage a water or sewer line with excessive pressure. The affected pipe may crack or become clogged. It is important to understand how to control tree roots in sewer lines.
Falling Hazard: Severe storms or rot/decay can threaten any tree. However, such afflicted trees within 5-10 feet of your home present a particular threat. One strong gust can catch a weak limb, even on an overall healthy tree, and throw it onto a structure. At high speeds and great heights, that weak limb becomes a powerful projectile.
Low-Hanging Branches: Although usually a source of minor irritants, such as debris and wear to your home's exterior, low-hanging branches can become major hazards. The right combination of factors can cause such a branch to fall, damage your home, and harm your family.
How Far Trees Should Be from Your Home
As a general rule of thumb, if a tree's branches can sweep your home's exterior, the tree is too close. Trees should be at least 15-30 feet away from your home.
Mature, healthy trees within that proximity probably pose little threat. However, you should have trees more than 25% cracked or decayed removed as soon as possible. For trees that require removal, Timber Works offers cheap tree cutting services in Front Royal, VA.
Furthermore, any tree limbs that stretch too close to your home should be trimmed to prevent property damage, and local tree services like Timber Works can do so. Also, tree roots that damage your foundation or water and sewer lines may need to be removed. Tree removal can accomplish this purpose.
Call Timber Works Tree Care, and we'll send an arborist to assess the trees surrounding your home. They can determine whether your trees jeopardize your home's safety.
Timber Works Tree Care: Quality Tree Trimming Services in Haymarket, VA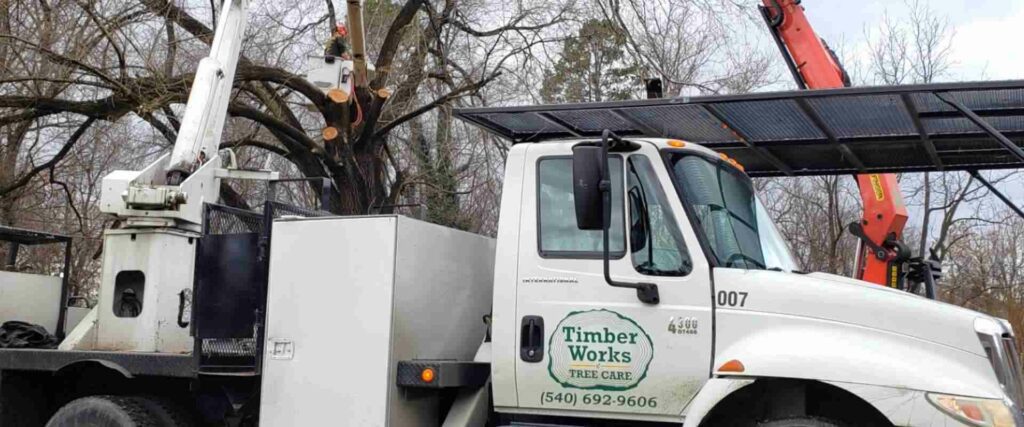 At Timber Works Tree Care, we are prepared to provide professional tree care services to home and business owners in Haymarket, VA. We offer affordable tree trimming, emergency tree removal, tree felling, brush mulching, and more. As a local service provider, we prioritize excellent service and prompt communication on all our projects. Contact Timber Works today at (540) 692-9606 to book a free project estimate.