An integral part of Timber Works Tree Care's customer service ethos is respect for our nation's brave servicemen and women. Indeed, we offer 10% off all services for veterans for this reason. We also host an annual "Refer a Veteran" Campaign, an initiative designed to further support veterans through complimentary tree services. Nominate a friend or family member who has served by filling out our form before submissions close on November 10th!
Our team is among the top tree care experts in the Shenandoah Valley & Northern Virginia region. We perform safe and efficient services: tree removal, land clearing, trail creation, forestry mulching, and much more. Plus, our team has both Workers' Comp and liability insurance to protect them and our customers. When you need an effective tree care service, call the professionals at Timber Works.
Timber Works & Our Nation's Veterans
Timber Works' support of the United States military is encoded in our DNA. Many team members come from families with extensive military backgrounds, and some of our former employees have gone on to serve our country in the armed forces.
Moreover, our company's values have roots in strong traditions of service. Thus, we seek to give back to those who have or currently are sacrificing themselves to serve our nation.
To qualify for our annual "Refer A Veteran" campaign, individuals must meet one of the following requirements:
They are an active US military service member

They are a retired US military service member

They are the spouse of an active or retired US military service member
Nominations put individuals in the running for our company's reward. Again, the submission period ends November 10th. We pick the winner from among the nominees.
2021's "Refer A Veteran" Winner
In honor of this year's campaign, we'd like to mention our 2021"Refer A Veteran" winner: Fire Control Technician Chief Petty Officer (Submarines) (FTC/SS) Bill Moore, a retired Navy officer. FTC/SS Moore accrued 25 years of service, serving on four different submarines in the US and countries all around the world, including Japan, Korea, Venezuela, France, Spain, Greece, and Italy. These days, he serves his country as a DOD Contractor testing and evaluating the latest Submarine Fire Control Systems.
We received many outstanding submissions last year but could only choose one winner.
Nevertheless, FTC/SS Moore stood out as the individual who merited our help most. We were thrilled for the chance to meet and help a member of our nation's armed forces living in Northern Virginia.
About Our Partner: Saluting Branches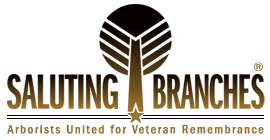 Finally, we'd like to recognize one of our partner initiatives, Saluting Branches, which works hard to honor and show appreciation to our nation's veterans.
Started by Rainbow Treecare, this initiative is composed of several tree care and landscaping services from around the US. Together, we provide our services free of charge for properties honoring our country's veterans, including monuments, memorials, and veteran cemeteries across the US.
It has been a privilege to participate in this initiative, and we hope to continue volunteering our services to honor our veterans both living and resting.
Timber Works Tree Care: A Service by and for Our Veterans Throughout The Shenandoah Valley & Northern Virginia
Every year, Timber Works looks forward to honoring our great nation's veterans with the chance to provide reliable tree care services. Moreover, we are always happy to work with service men and women. We offer a 10% military discount for customers who currently or formerly served in the armed forces on tree removal, forestry mulching, land clearing, and more services. To learn more, or to get a free project estimate, contact us at (540) 692-9606 and visit our website!