'Precision fells'—better understood as 'tree felling'—is not an everyday term, but it refers to a common practice in the tree care industry. The process's use in landscape adjustments, professional equipment requirements, and circumstantial factors justify a detailed explanation. But no matter what, you should seek your dead tree removal provider if you require a precision tree felling solution.
Timber Works Tree Care offers commercial and residential tree removal services throughout Strasburg, VA. Our trained and certified experts provide diverse solutions for urban, rural, and forested properties. Moreover, they combine arboreal knowledge with licensed and insured techniques for land clearing, tree trimming, forestry mulching, stump grinding, and other tree services. Contact us today for a free project estimate!
Below, we describe the precision felling method and scenarios that call for its use:
What are Precision Fells?
To understand the precision fells process, you must first grasp what "tree felling" refers to. Tree felling is a kind of tree removal wherein specialists chop/cut at the tree's base with an ax or chainsaw until the trunk falls. Thus, "precision fells" refers to felling a tree with techniques to control its fall and disintegration.
This type of tree felling promotes safety for the surrounding environment by influencing where the tree lands. Tree service professionals can also use precision felling to ensure that the tree remains whole in its fall, as this mitigates additional safety concerns.
To perform a precision fell, tree care specialists create an undercut on the side of the tree that they want it to fall. From there, they make a back cut on the opposite side to release pressure on it, which encourages the trunk to drop in the desired direction.
When is Precision Felling Used?
Timber Works considers precision tree felling methods in almost all cases of tree removal. However, we cannot fell every tree that requires removal. Indeed, tree felling only works in scenarios where ample space exists for the tree to safely land. Additionally, we must consider whether felling presents the best option in light of the tree's size, shape, angle of growth, and overall health as well as the slope of the property.
In some cases, precision felling is imperative for successful tree removal. For example, tree removal companies apply precision techniques to trees that lean towards neighboring properties to avoid the tree's landing on that neighbor's property.
In cases of extreme damage or decay, a tree rot removal service may determine that felling is unsafe. Alternative tree removal techniques include climbing, bucket removal, and crane removal.
Timber Works Tree Care: Experienced Dead Tree Removal in Strasburg, VA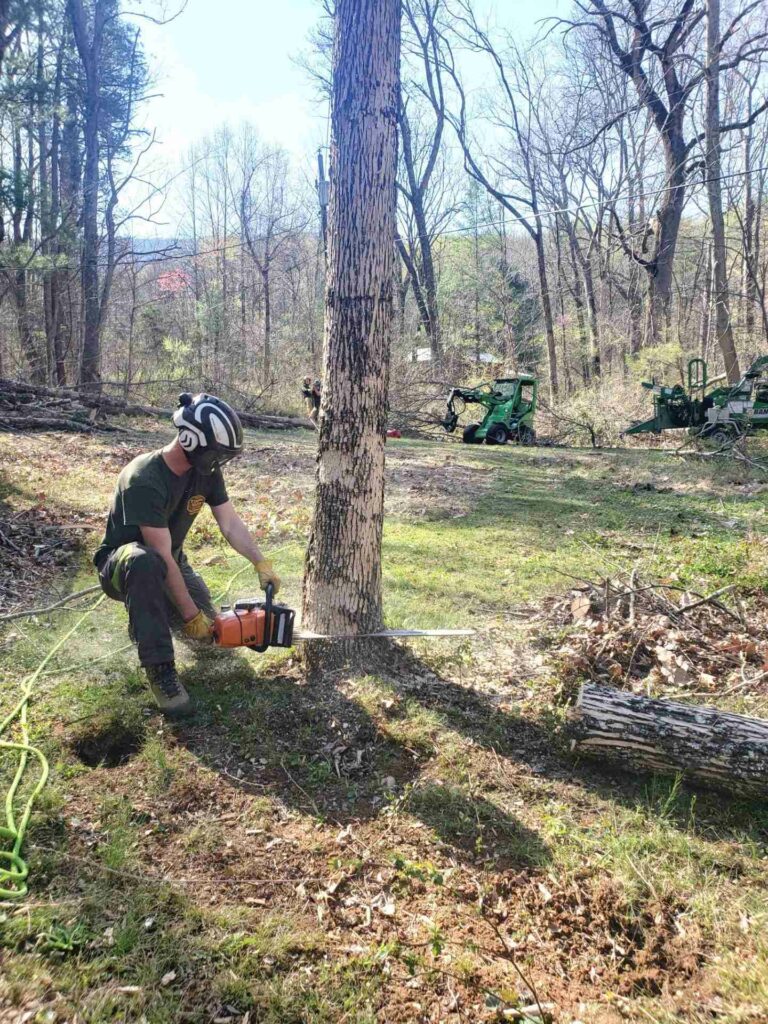 Turn to Timber Works Tree Care for dead tree removal services in Strasburg, VA. We provide safe, affordable, and comprehensive tree care services to all our clients. In addition to a full range of services, we offer regular tree inspections to identify signs of decay, overgrowth, disease, and damage. If you are unsure whether your tree requires removal, contact us at (540) 692-9606.