Once a tree is removed from your property, its stump not only remains—it also creates a hazard for everyone crossing the space. You can use stump removal or grinding services to neutralize this danger, though each provides different results for your yard. So, reach out to a local stump grinding and removal company to efficiently dispose of tree stumps and create a yard you can show off.
Timber Works Tree Care offers stump grinding and stump removal services—among many others—for Berryville, VA, homeowners. Our team of professionals completes the job right the first time. Indeed, we are considered a local leader in high-quality tree service, one that prioritizes safety, efficiency, and communication. For a free project estimate, call us at (540) 254-5773.
Below, we discuss the differences between stump grinding and stump removal:
The Importance of Excavating Tree Stumps
All homeowners who have trees on their property should prioritize tree maintenance, even if they are in the removal process. Unattended tree stumps sometimes regrow their former trunks or spur the growth of new trees around them. These smaller trees suck the nutrients out of surrounding plants, smothering your yard's growth.
Moreover, stumps present tripping and collision hazards. Insects—including carpenter ants, beetles, and termites—and fungi are attracted to decaying stumps. These pests may threaten the other trees and plants in your yard. Finally, a decaying tree stump is simply ugly.
The Processes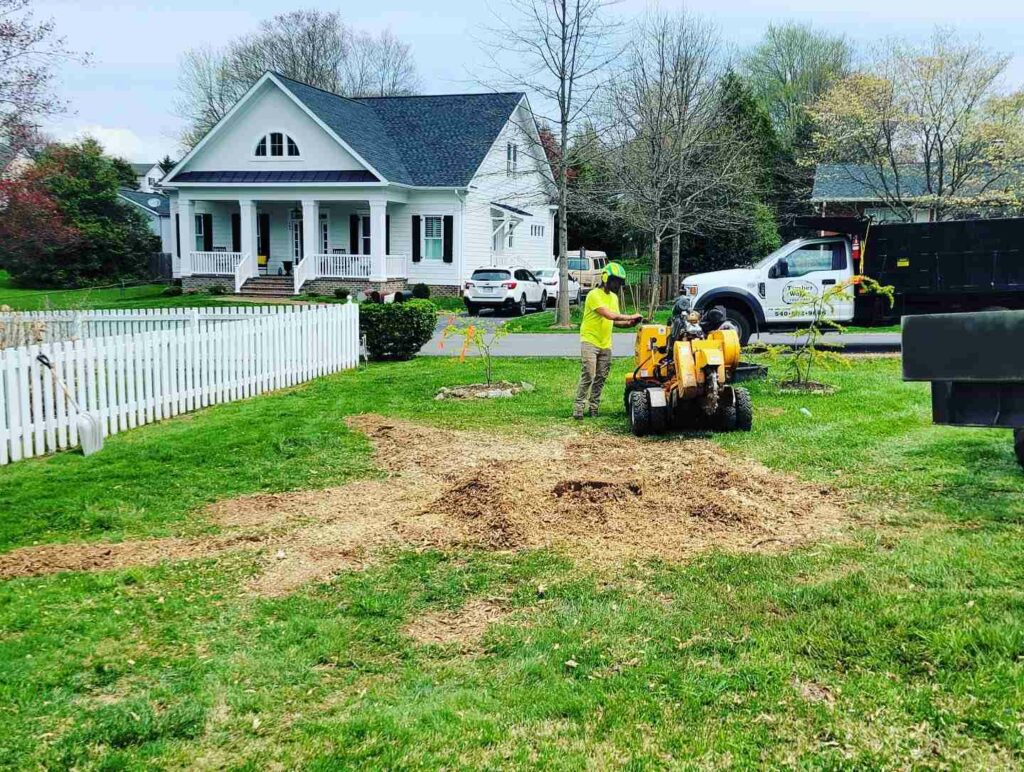 Before hiring stump grinding services for your yard, give yourself a sense of how much time grinding a stump requires. Depending on the equipment used—such as a stump drill—and whether you hire a professional tree service company, grinding a stump can take anywhere from 15 minutes to 2 hours.
This intricate process removes the tree stump from the ground without touching the roots. A grinder's mechanism mashes the stump, leaving sawdust behind. The machine's operator will try to stop an inch below the soil's surface, though it can reach as low as a foot underground.
On the other hand, stump removal involves pulling the stump from the ground using force and high-powered machinery. For this approach, a professional will dig out the stump, exposing the root ball and taproot. They then cut the taproot with an axe or bow saw.
Pros and Cons
In general, land clearing methods come with pros and cons. For instance, stump grinding is easier than stump removal to execute, the former leaving only fine wood dust that blows or washes away. By contrast, stump removal can often leave your landscape in a messy state.
While stump grinding is better for the environment, stump removal ensures no chance of regrowth exists, as it eliminates all of the tree's elements. However, stump removal is more extensive and expensive. So, talk with your local tree service company to determine which method is best for removing unwanted trees.
Stump Grinding Made Easy with Timber Works in Berryville, VA
Whether they have a massive oak tree stump or a simple maple tree, stump grinding and removal should not be a hassle for any homeowner. Calling a competent and comprehensive stump grinding company can ensure that your project gets done safely and efficiently by a team of trustworthy professionals. Timber Works Tree Care has served homeowners in Berryville, VA, for years with professionalism and top-quality craftsmanship. Call us at (540) 254-5773 to get a free project estimate today.