At any stage of its life, a tree may develop structural issues that—given enough time—could injure or kill it. For this reason, you should have regular tree structure evaluations performed. An arborist can assess root problems, disease and decay, damaged or dead limbs, and cracks that present a threat to the tree's health. Moreover, a tree inspection may lead to timely professional tree trimming, maintenance, or removal service.
Timber Works Tree Care offers residential and commercial tree care services to residents of Aldie, VA. We provide a variety of tree care solutions for urban and forested trees. Our team carries liability insurance and practices safe, certified methods for tree care. We are also committed to professional customer service through quality management and communication. Contact us today at (540) 692-9606.
Below, we outline the concerns we assess during a tree structure evaluation:
Root Problems
Root damage is a leading cause of tree structure abnormalities. Moreover, signs of tree root damage—including stunted growth and dead limbs—can remain latent for a significant period. Yet a professional tree evaluation can identify root problems early in their development, allowing for preventative measures.
Timber Works team members check for a variety of root problems. These include tree root rot and tree root decay, which can be spotted before symptoms reach the tree's trunk and canopy.
Disease & Decay
When tree bark has an opening, pathogens can enter through this protective barrier and cause tree disease. Common signs of tree disease include:
Dry, yellow, or perforated leaves

Dark spots on leaves

White spots or masses

Bark holes or tunnels

Stunted leaf, limb, or trunk growth
While decay and disease can share a cause, decay usually arises due to excessive water exposure. Tree decay signs include:
Leaves or needles changing colors

Loss of bark

Fungus growth

Bark holes

Brittle leaves or bark

Slimy roots
If you notice any of these symptoms, contact a tree professional for an inspection. Timber Works can evaluate your tree for disease and decay as well as determine its condition. If we detect disease and decay early, we may be able to save the tree from its plight. 
Damaged or Dead Limbs
Weak, cracked, or leafless limbs may be damaged or dead. Cracked limbs usually result from storm damage and can pose the danger of falling. Diseased limbs can spread an infection to the rest of the tree over time. 
Damaged limbs may remain attached to a tree for years. You should have these limbs inspected by a professional tree care provider, as they may require trimming to prevent falling.
Cracks
Cracks can occur anywhere on your tree, including the roots, branches, or trunk. They can be caused by wounds, decay, extreme temperatures, or storms.
While trees can survive a long time with vertical cracks, wind and gravity put the tree at risk of snapping. Horizontal cracks indicate that snapping is imminent. Contact your local tree services for emergency inspection if you notice these cracks.
Timber Works Tree Care: Trusted Tree Trimming Service in Aldie, VA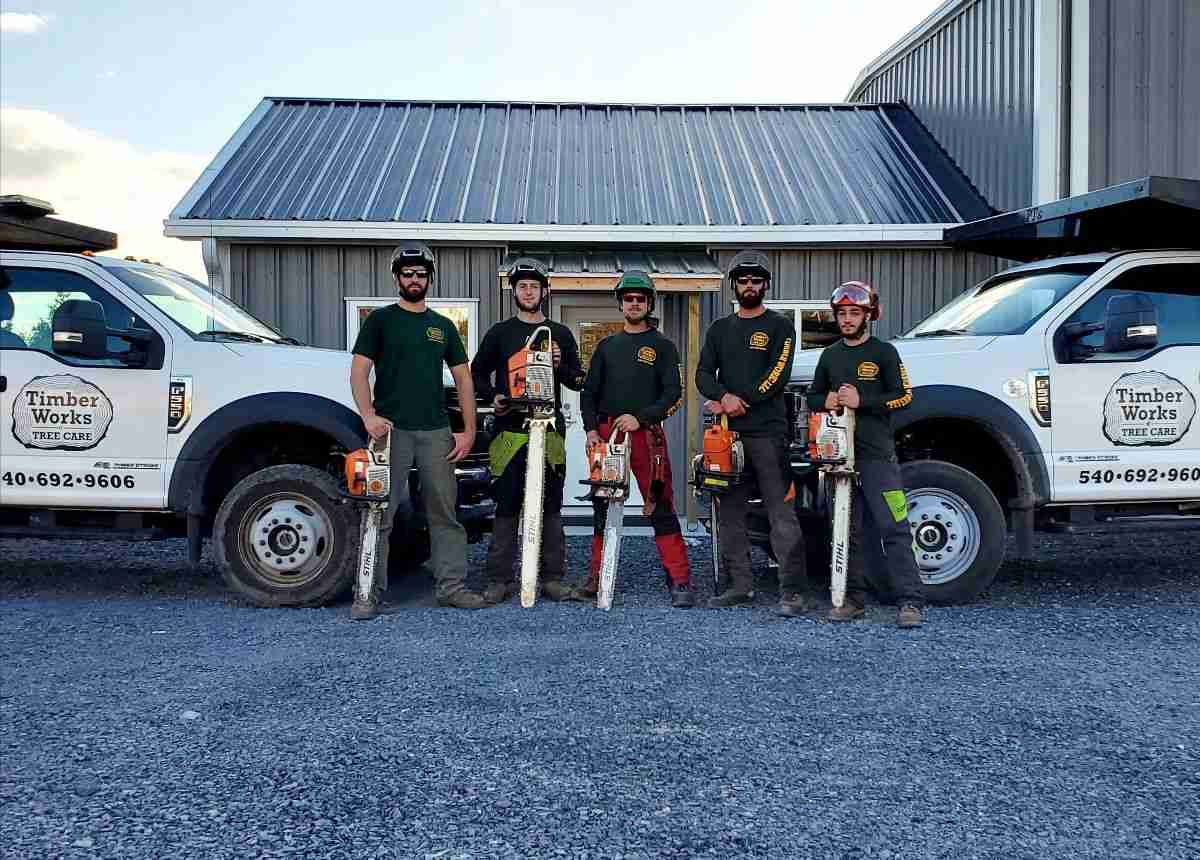 Turn to Timber Works Tree Care for professional tree trimming needs in Aldie, VA. From inspection to treatment, we provide effective services for improving the health of your trees and property. Thanks to our affordable tree care, customers rank Timber Works as the top affordable tree-cutting service in the area. Contact us at (540) 692-9606 for a free consultation and estimate.