Sometimes, simple tree removal does not go far enough—you need an overgrown plot cleared of vegetation or several acres of pasture trimmed for livestock. Either way, you'll find professional land clearing services are just the thing to handle your project. Comprising tasks as varied as forestry mulching, stump grinding, vegetation conversion, and more, land clearing companies handle small- and large-scale property cleanup for home- and business owners. So contact Timber Works Tree Care, a reliable tree services provider operating in Strasburg, VA.
Whether you need emergency tree removal or careful branch pruning, you'll find a capable and qualified service team at Timber Works. We have raised the bar for high-quality results in the region thanks to our team of experts that guarantees customer satisfaction. Moreover, we use the best machinery—including cutting-edge land clearing equipment—our industry offers to ensure outstanding results every time. Learn more about our work or receive a free project estimate by calling (540) 692-9606.
Below, we review the options and equipment that our land clearing services entail:
Service Options & Uses
At Timber Works, the term land clearing covers several individual service options. Specifically, these are:
Tree Removal

Excavating

Fence Line Clearing

Targeted Grazing

Vegetation Conversion
Our team approaches any project that involves removing trees, stumps, overgrown vegetation, or general forestry as land clearing. Moreover, Timber Works adjusts its services to suit every client's needs and protect their property's health.
Land clearing services can adapt a property for diverse uses. The most common are commercial applications like construction projects, which call for land surveying, clearing, and grubbing. Other possibilities include:
Forestry mulching to create trails through woodlands

Stump grinding to establish an even lawn or sports field

Tree removal to thin forests and preserve mature growths

Fence line clearing to install salient property boundaries

Bush hogging to

encourage grazing distribution on pasturelands
Necessary Equipment
Now, each of the service options listed above requires landscaping equipment. A few entail machinery built for the purpose. For instance, stump grinders can process tree stumps still in the ground, saving landscapers the hassle of excavating those stumps. The bush hogging attachment is pulled behind a tractor to reduce overgrown vegetation that a lawnmower cannot handle. And horizontal grinders process organic matter—trees, shrubs, and more—down to a fertile mulch that enriches other plant life.
Most land-clearing equipment is neither accessible nor lucrative for homeowners to purchase. However, Timber Works owns, maintains, and upgrades the machinery our service teams employ on job sites. Additionally, we rent out our Morbark 3400XT Wood Hog Horizontal Grinder to customers per day, which comes with a trained and experienced team member to operate.
Costs & Benefits
As with tree removal, land clearing cost per acre is decided by several factors. These include:
Equipment used during service

Location of property

Condition of land and vegetation

Labor force involved

Additional services (clean-up, removal, etc.)
You can determine some of these factors to get a rough sense of pricing beforehand. For instance, our forestry mulching costs assume you will use one mulcher machine and one Timber Works employee to operate it. In this case, the final price depends on your property's size and condition.
As you weigh their costs, consider the value these services deliver. People clear land for specific purposes: preparing lots, taming overgrowth, improving forage quality, and more. They can try to achieve these ends without professionals, but it will take them much longer and require significant effort.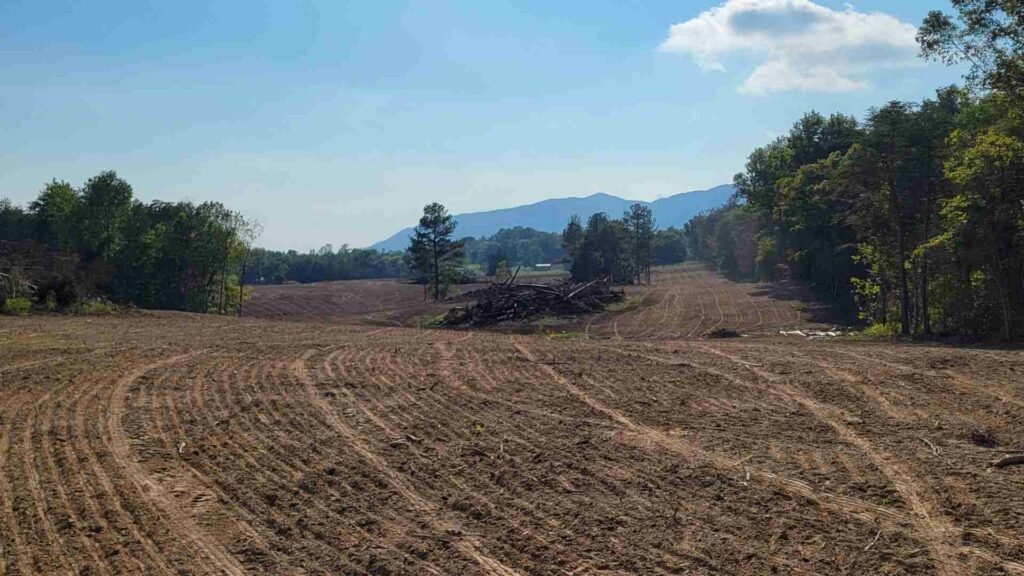 On the other hand, professionals can knock out large swathes of land with industrial equipment in a matter of hours or days. They not only achieve customer satisfaction but also provide extra value. Forestry mulching's benefits, for example, include erosion control, vegetation management, and easy passage through a property. Such perks more than justify the service's cost and can save you money down the road.
Professional Land Clearing Services Now Available in Strasburg, VA!
Whether you need land clearing services for commercial or personal property, turn to Timber Works Tree Care. Our team provides forestry mulching, stump grinding, bush hogging, and more to folks in Strasburg, VA. We are the regional leaders in high-quality work, safety, and customer service. Call (540) 692-9606 today to learn more about our options and determine how we can help you.