Despite their beauty and majesty, trees can create tension and conflict between neighbors. While you want to respect their property and landowning rights, you must also set boundaries with them and communicate to get your point across. When trees on your neighbor's lawn endanger your property, you face a delicate situation—how do you approach them without coming off too strong? Document any damages caused by falling branches, speak with your neighbor, explore legal action, and hire an emergency tree service to remove the tree safely.
Timber Works Tree Care provides expert tree maintenance services for The Plains, VA, residents, including tree trimming, stump grinding, and more. We aim to deliver the highest-quality customer service to our clients by hiring the top arborists and practicing safety above all else. Moreover, we cover all team members with Workers' Comp and liability insurance to protect them and our customers from financial responsibility. To learn more about our tree removal process, call (540) 692-9606.
Below, we discuss how to handle a neighbor's encroaching tree:
Speak with Your Neighbor
First, try to discuss the issue with your neighbor. They may overlook the problem until you bring it to their attention. Moreover, you cannot take action against their hazardous, overgrown, or fallen tree unless you speak to them about it.
Even if you do not trespass onto their lawn, you may not trim or chop the tree while its trunk is on their property. Talk to your neighbor face-to-face to ensure no miscommunication or misreading of your tone occurs. Express your concerns about the overgrown tree and explain why it may need removal.
Document Damage
If your neighbor's tree has damaged your property already or appears ready to fall, document it. Perhaps a branch or heavy limb fell and dented your car or cracked your patio. Alternatively, you may notice the tree suddenly leaning toward your lawn. Either way, take photographs of the damage and/or the tree itself.
You must capture detailed images of your neighbor's tree and where it sits in relation to your property. A dangerous tree too close to your property can threaten your healthy trees, family, and home.
Request a Tree Inspection
After discussing your concerns with your neighbor, ask them to hire a certified arborist to conduct a tree inspection. That professional can provide recommendations, such as emergency tree removal. Ask your neighbor if you can attend the inspection to ask the arborist questions, get their opinion, and communicate your concerns.
Take Legal Action
Unless your neighbor complies and removes or gets care for their tree, you might need to resort to legal action. Consult a property lawyer for details about your rights and what steps you can take to protect yourself.
Those steps may include filing a nuisance claim with a local court if the tree interferes with the use and enjoyment of your property. Should the court agree with you, it can order your neighbor to have it removed or send out municipal services to do so.
Hire an Emergency Tree Removal Service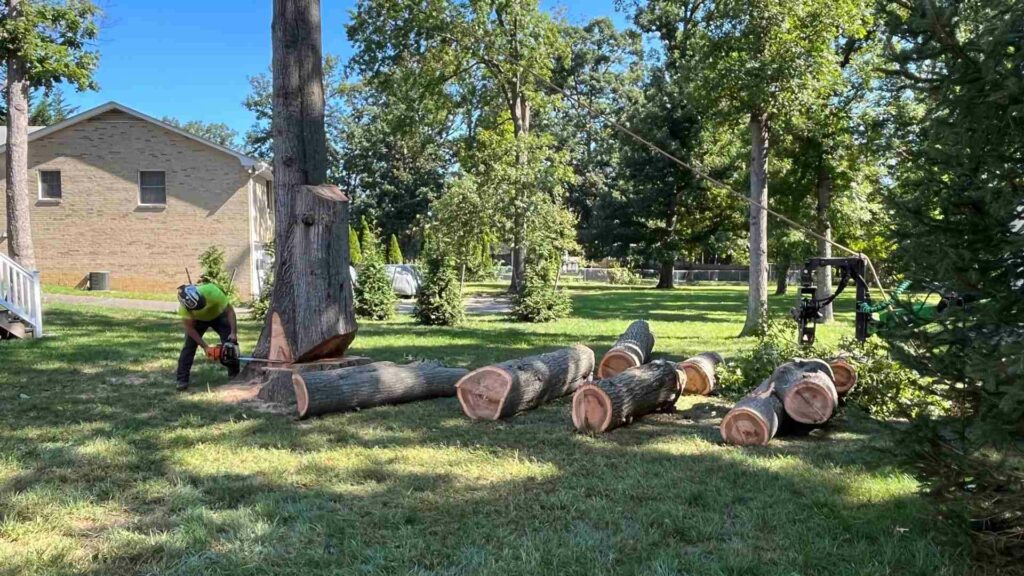 When all is said and done, and your neighbor hopefully obliges to your request to have their tree removed, suggest they hire a reputable emergency tree removal service. To go through this entire process and then have an unreliable arborist do a shoddy job would be frustrating!
As you expect your neighbor to care for their yard, ensure you have an arborist inspect your property's trees and treat them. Leave tree care to the professionals to ensure the job is done right the first time—you will thank yourself later!
Emergency Tree Services in The Plains, VA
Timber Works Tree Care offers 24/7 emergency tree services for The Plains, VA, residents. Our experienced and trained employees, led by an expert foreman, handle our clients' service requests safely and to their complete satisfaction. We pride ourselves on leaving every property better than we found it. To contact an experienced arborist, call (540) 692-9606.