Amateurs in tree care often find that trying to remove a tree from their property is an enormous headache. Determining an appropriate tree removal method—or whether a tree needs removal in the first place—and numerous other aspects of tree removal are not intuitive. Moreover, locating a trustworthy tree removal company that can provide accurate and efficient work is difficult. Yet Timber Works Tree Care offers transparency and responsiveness in every step of the tree removal process!
Client satisfaction is our priority at Timber Works. We understand the importance of protecting your Gainesville, VA, property and seek to answer every question and concern. Moreover, we work with you to find the best removal option for your property and budget. Our team of arborists quickly and effectively handles trees, treating your property as if it were theirs. Call (540) 692-9606 to learn more about our tree removal services.
Below, we offer a step-by-step guide to our tree removal process:
1. Scheduling an Estimate
You can start the tree removal process by scheduling a tree assessment and estimate. Completely free, our estimates seek to give property owners an accurate overview of a tree removal's extent and cost. Call our office at (540) 692-9609, fill out the contact form on our website, or direct message us on social media. A team member will respond as soon as possible and find the earliest opening for an assessment and estimate.
2. Meeting with Our Sales Rep
During your appointment, our estimator will inspect the trees in question. He assesses the tree's health, location, and size to calculate the tree removal cost—these factors will determine the timeline, equipment, and crew required. Once our sales rep completes his assessment, he will discuss options with you, draw up a project cost, and send it over by email.
3. Proposal Acceptance and Job Scheduling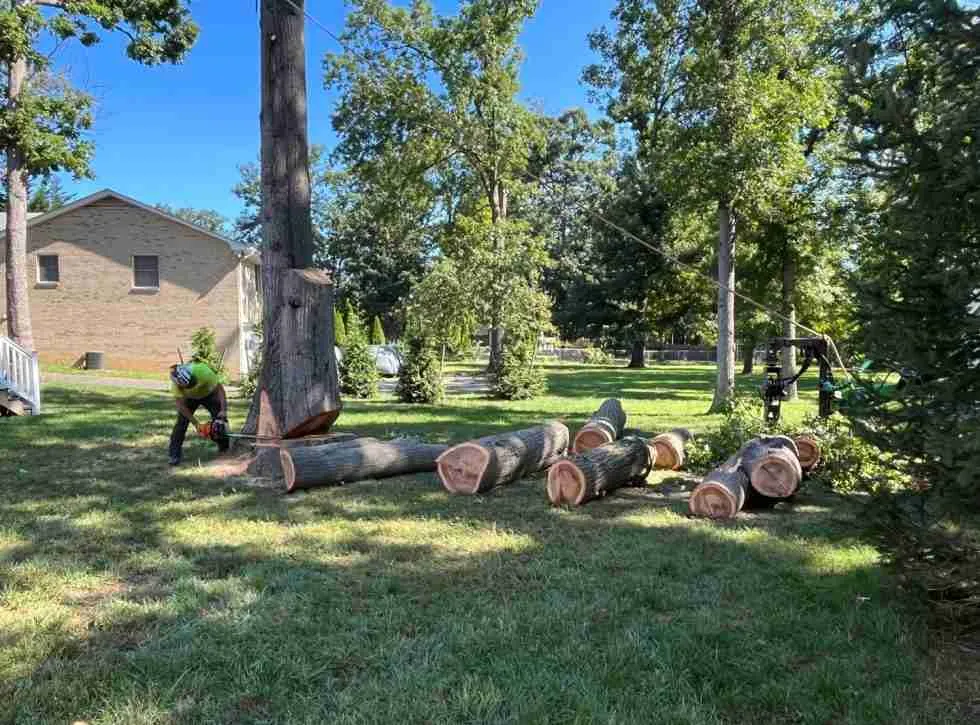 Our estimates are valid for 6 months from the date of issue, allowing each client to review the proposal as thoroughly as possible. Once the desired proposal items are accepted by the property owner, one of our office staff will reach out by email to schedule the work. We ensure the day and time of service are optimal for you.
4. Tree Removal
The Timber Works team chooses from several approaches to tree removal, as each one suits particular circumstances:
Tree Felling
The traditional approach to removal, tree felling involves making cuts at a tree's base and allowing it to fall to the ground. Although its equipment requirements are minimal, only a chainsaw and an operator, tree felling requires an experienced professional who can cut trees in such a way as to predict their fall. This method requires ample space, as a falling tree can damage driveways, septic systems, and other nearby infrastructure.
Tree Climbing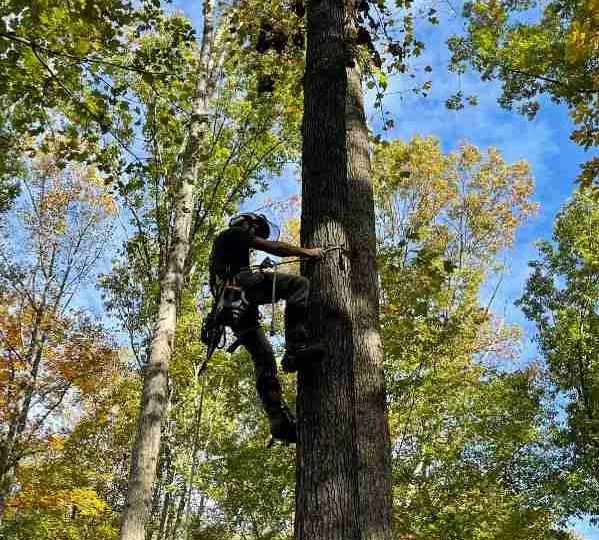 With insufficient room to fell a tree or bring in a bucket truck, Timber Works technicians will conduct a climbing removal. The climber wears a saddle, spikes, and proper safety equipment to climb the tree and remove it piece-by-piece, top-down. Depending on the location and need for impact control, we can lower the pieces with ropes or drop them to the ground. However, this method of tree removal requires more time than felling or using a bucket truck and so comes at a higher price.
Equipment Removal
Usually, the more complicated a removal project, the more equipment it will require. The most common machinery our crew might utilize on a job includes:
Bucket Truck:

The bucket truck or "cherry picker" is used when the impediments around a tree prevent felling but facilitate enough room to fit the vehicle. In other words, the access point must be big enough for a medium-sized moving truck.The truck's weight can make indentations when driven on grass or soil, so our crew lays down ¾" plywood over soft ground. As in climbing, a technician removes the tree piece-by-piece by rigging or dropping small pieces to reduce impact. While the crew member can only scale as high as the bucket reaches, this removal method is handy for trees too rotten or otherwise dangerous to climb.
Spider Lift:

Although similar to the bucket truck method, the spider lift reaches higher and requires more space. Our spider lift extends 18' beyond the bucket truck's reach and does not need to sit as close to the tree for operation. We find the spider lift more versatile than the cherry picker, capable of reaching trees that we can't remove otherwise.
Crane:

Timber Works uses a Tree Mek for tree removals that a spider lift cannot complete. Indeed, this crane allows us to complete jobs that our estimators determine are too dangerous for tree felling or bucket removal.The crane arm grasps the tree using a grapple saw, then cuts and removes the section without direct crew involvement. As you might expect, crane removal requires ample room for setup and operation.In addition to this equipment, our crew uses a wood chipper, chip trucks, and stump grinders to remove every part of the tree from your property.
5. Clean Up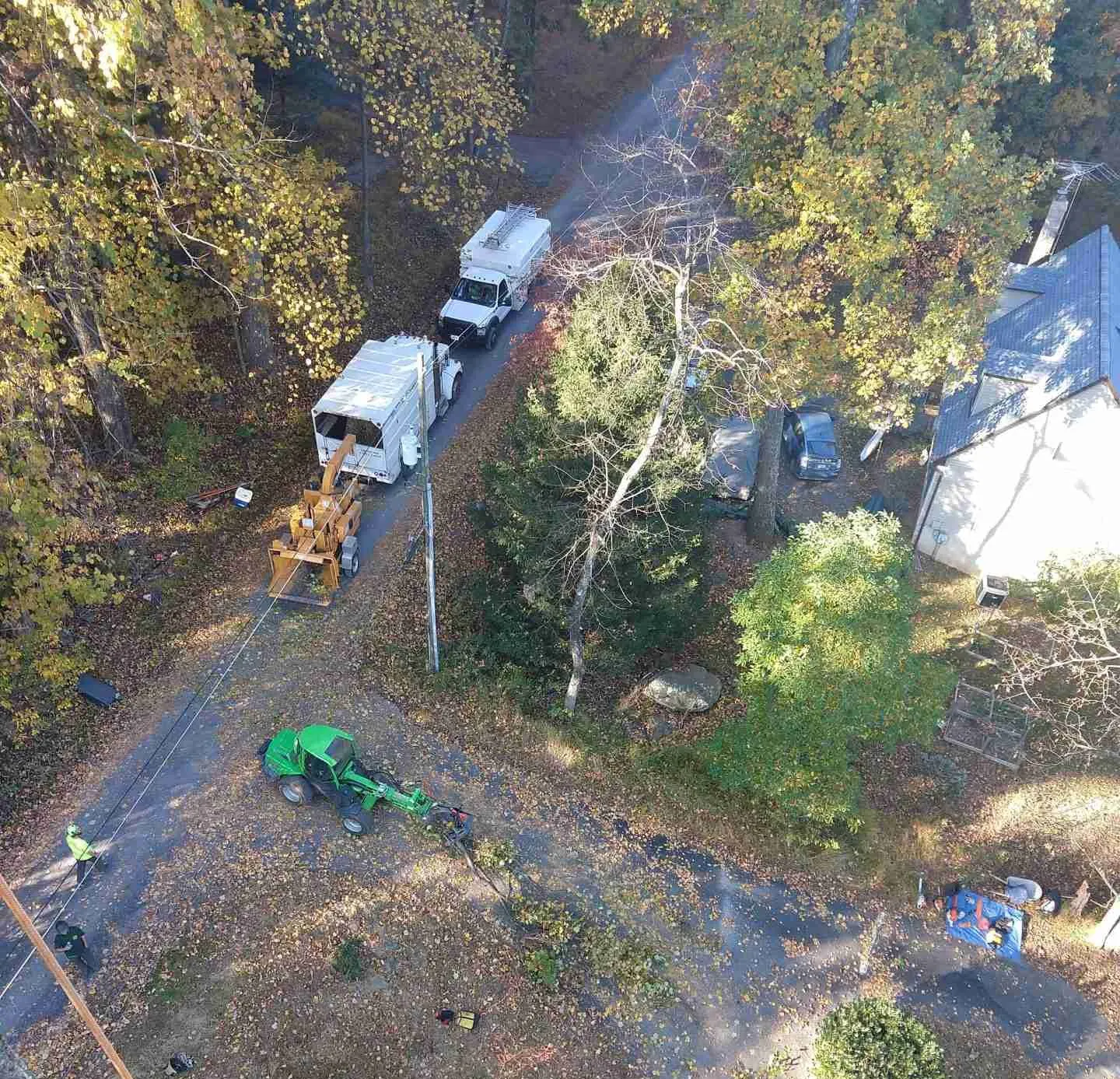 Timber Works prides itself on leaving each property cleaner and better looking than before our work, so a tree removal job continues even after a tree is down. Our crew can take the tree trunk away or leave it on your property, depending on your preference. We will put the tree's limbs through our wood chipper, then gather and transport those chippings. If you choose to have the stump ground, the grindings will be raked flat or removed according to your preference.
Property clean-up is just as important to us as tree removal, and Timber Works' 5-star reviews show our clients are not disappointed!
6. Receipt
After our crew leaves your property, one of our office staff will reach out to ensure you are satisfied with the job! If you have any complaints, technicians will return to complete the work. Once you are happy with everything, we will send an invoice by email that you can pay by direct deposit or credit card (all credit card transactions have a 3% fee).
Hire a Tree Removal Company in Gainesville, VA!
Timber Works is a dedicated and efficient tree removal company. Thanks to our decades of experience and cutting-edge equipment, our reliable team can tackle any tree project you may have. Moreover, we take satisfaction in a job well done for our clients in and around Gainesville, VA. Call (540) 692-9606 or visit our website to receive a free tree project estimate.