Any knowledgeable arborist will agree each season calls for certain tree care practices. During Fall, for instance, tree care should revolve around preparing for a successful dormant season. These steps—including receiving assessments, cabling vulnerable branches, and pruning—ensure trees' health the following year. Nevertheless, consult local, affordable tree services for help with Fall tree care and to schedule your annual winter tree pruning.
Timber Works Tree Care is among the best and most affordable tree care companies working in Delaplane, VA. The Timber Works team believes affordability does not entail a lack of quality. We provide a wide range of top-rated tree care services, from tree trimming to forestry mulching, and guidance on caring for your trees. Call (540) 692-9606 for a free project estimate.
Below, we outline 4 tree care tips for autumn:
1. Schedule Forestry Mulching
As the weather gets colder and the days grow shorter, most trees enter a dormant period, during which they shed their leaves and become more brittle. These circumstances increase the effectiveness of a forestry mulching service, as the equipment operator faces fewer obstructions and can mulch larger areas.
In doing so, Timber Works can clear your property of brush and litter, opening it for increased access and helping to support the trees you wish to remain. Indeed, the green byproduct that the mulcher produces can insulate tree roots against frost. It also helps the ground retain the water and nutrients necessary for trees to survive the winter.
2. Get a Tree Assessment
Given the extreme weather conditions that Winter can bring, your property's trees must be ready to withstand abuse. Many home- and property owners believe they can recognize vulnerable trees without help, but only professionals possess the knowledge and expertise to determine tree stability. Such tools become critical in cases where trees grow close to homes.
A professional tree assessment can determine the health of trees and the risks they pose. Arborists know the signs of disease, infestations, and storm damage. Their advice may save an injured tree from death and prevent expensive accidents from occurring. Indeed, with enough time, they may even be able to save trees that seem doomed to fall.
3. Tree Cabling
Sometimes, tree branches grow at awkward angles and become unstable or even hazardous—a gust of wind or the weight of ice might cause it to crack and fall off a tree. To alleviate such situations, an arborist may recommend a tree cabling service. This practice involves stringing cables between trunks and branches, wherein the weight of the former stabilizes the latter.
When set up effectively, cabling can prevent tree limbs from splitting and falling off a tree. In some cases, cabling corrects a branch's growth and shores up the tree's health. Seek cabling during the Fall to ensure storm-damaged or vulnerable trees remain intact through gusty winters.
4. Schedule Winter Pruning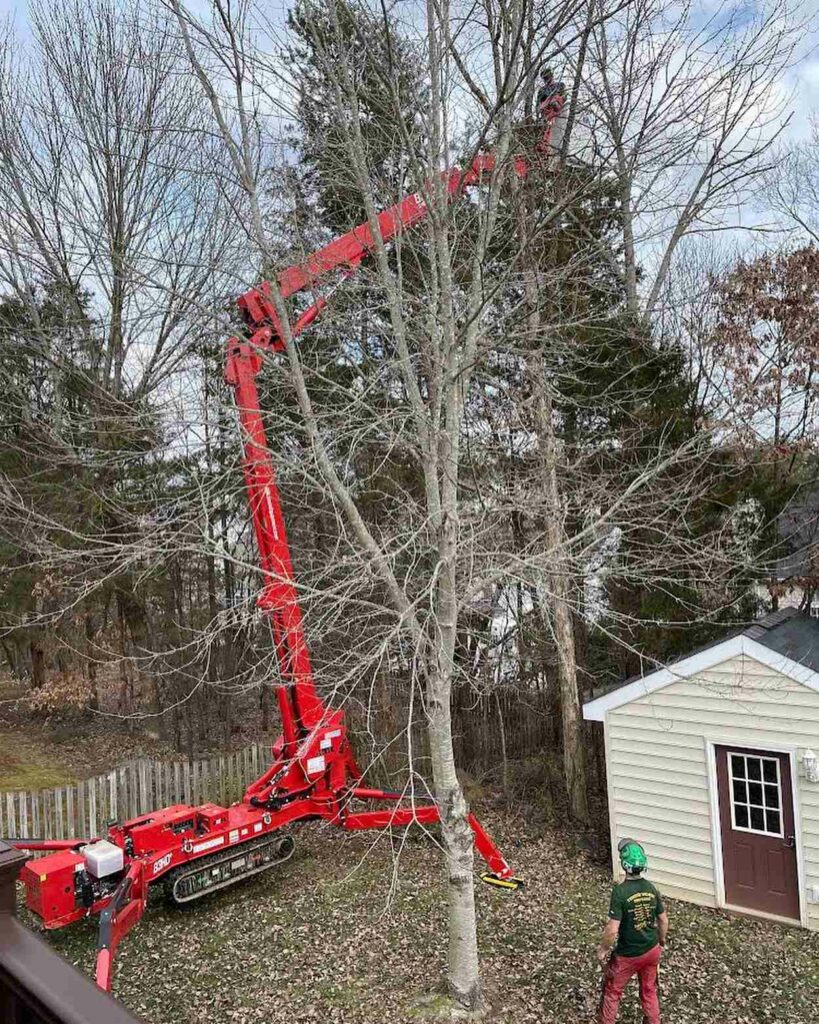 Winter presents the best time for tree pruning for several reasons. For one, the lack of leaves improves the visibility of trees' structures. Arborists can take advantage of this fact to determine which branches need to be cut back or removed.
In addition, winter pruning helps prevent infection and infestation. Not only are potential sites for diseases and pests more visible, but these tree invaders are less active during winter. Finally, winter pruning encourages new growth in the spring. Removing dead or damaged branches allows your tree to regenerate.
Pruning in winter can help ensure your trees remain healthy in the coming year. Schedule winter tree trimming during Fall to ensure your trees get the attention they need at the proper time.
Discover Quality yet Affordable Tree Services in Delaplane, VA
Timber Works Tree Care offers high-quality, affordable tree services to the residents of Delaplane, VA. We provide comprehensive options at competitive prices backed by proper licenses and insurance as well as glowing ratings and reviews. Further, it is all made possible by our outstanding team of tree care experts. For more information or to schedule your Fall tree services, contact us online or at (540) 692-9606.