Whether you want to clear land to build a home or tend to overgrown vegetation, professional forestry mulching can bring drastic changes to your landscape. Land clearing services can prevent wildfires, irritating pests, and diseases amongst your vegetation. That said, hire a professional to clear your land to handle the job safely and efficiently.
A top-rated tree service company, Timber Works Tree Care provides comprehensive land clearing services to Bristow, VA, residents. Our team has extensive tree care knowledge, including trimming trees, clearing land, grinding stumps, and more. We hire the best employees who prioritize the industry's best practices above all else. Call (540) 692-9606 or visit our website for a free project estimate!
Below, we discuss land clearing, when it is necessary, its benefits, and the different types:
What Is Land Clearing?
Land clearing services aim to cut down trees and other vegetation using laborers and heavy-duty mechanical equipment. Yet its methods differ based on the equipment required, such as front-end loaders or forestry mulchers. No matter the approach, the process should be performed by a professional team to ensure proper safety and technique.
When Is it Necessary?
Several needs can necessitate this service: land development, right-of-way maintenance, agricultural reasons, mining, and property value enhancement.
Construction and urban planning projects require developers to clear the land before structural work occurs. Doing so rids the area of obstacles—trees, vegetation, rocks, and more—that could hamper building. Professionals can also use land clearing to assess a project site and use those details to inform their future development decisions.
Moreover, land clearing is crucial in agricultural endeavors, as soil provides a finite amount of nutrients to the plants in it. Land clearing removes overgrown or invasive species so new vegetation can thrive and the soil's nutrients support the desired species.
What Are Land Clearing's Benefits?
Overgrown vegetation presents numerous safety hazards to the surrounding area. For instance, infected plants can easily spread diseases to those nearby or in neighboring plots of land in overgrown patches. Moreover, such vegetation provides a habitat for pests like rodents and insects. Yet professional land clearing services help rid your property of these dangers.
Additionally, overrun plots can pose a fire hazard, and thus land clearing can prevent wildfires. It also boosts the visual appeal of your land by removing crowded, undesirable plant life from your landscape. With the help of professional land clearing services, a once uninhabitable forest can become a beautiful pasture or a patch for development.
The Different Types of Land Clearing Techniques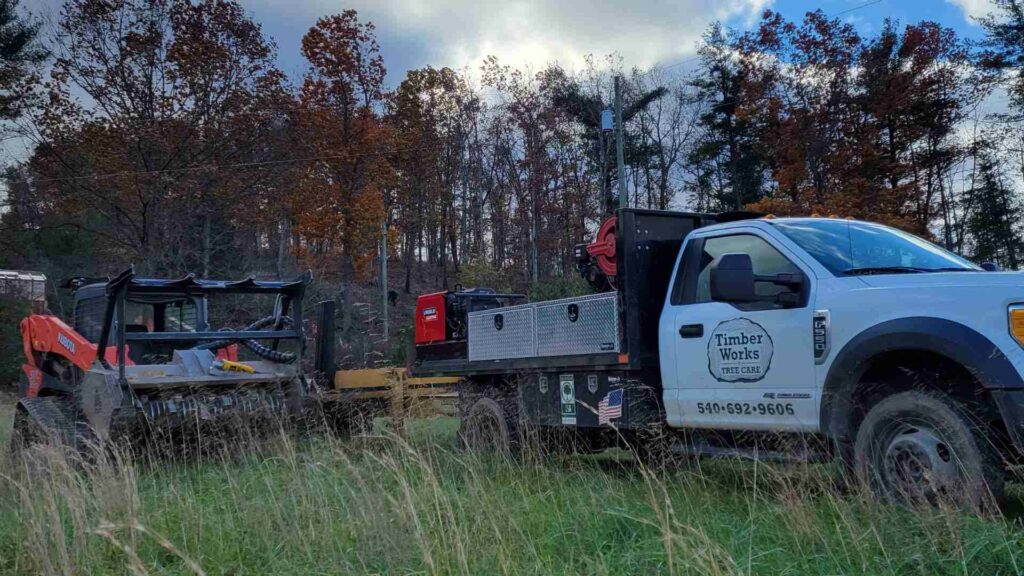 Bulldozing
Also known as the pushover method, bulldozing involves removing obstructions on land with a bulldozer. The machine pushes large amounts of plant growth and vegetation out of the way, though it can keep roots intact. Although quick and relatively easy, this method is unsuitable for agricultural or large construction projects. Instead, consider this option for small and intermediate development jobs.
Cut and Grind
This method is ideal for clearing properties with sparsely grown trees and vegetation. This method involves cutting up and removing vegetation before grinding it into mulch. Brush mowers, wood plows, and bulldozers can achieve desirable results.
Pile and Burn
One of the earliest forms of land clearing amongst farmers, pile and burn involves pulling up vegetation, piling the debris, and burning it on the spot. While cost-effective and quick, this approach entails some risk. Fires must not get out of hand—wildfire damages can be costly, and certain materials produce hazardous fumes when burned.
Forestry Mulching
A form of land clearing that utilizes a single machine to cut, grind, and clear out vegetation,

forestry mulching protects your landscape's health

. It is a low-impact, cost-effective solution for clearing overgrown, unusable land.

Mulching processes trees, brush, and invasives while generating nutrient-dense mulch that breaks down and enhances soil quality. Forestry mulching is an excellent option for those looking to maintain their landscape's health.
Stump Grinding


Stump grinding is the most affordable

, clean, and safe option for stump removal. A professional uses a stump grinder machine to reduce stumps, mill trunks, and roots into mulch. This method is safer than other tree removal options as there is no need for chainsaws or heavy-duty equipment.

Tree Removal
In contrast to the large-scale land clearing methods mentioned, tree removal is a viable option for those interested in removing individual trees.

Certified arborists

have the equipment and expertise needed for successful removal, individual or

en masse

.
Expert Forestry Mulching and Other Tree Care Services in Bristow, VA
Timber Works Tree Care provides comprehensive land clearing services—including tree removal, stump grinding, forestry mulching, and more—for Bristow, VA, residents. We tailor our land clearing method to your needs and desires. Our crew can clear entire lots, make way for driveways, expand backyard space, and more. To get a free land clearing project estimate, call us at (540) 692-9606.