Tree pruning and trimming play crucial roles in your trees' well-being, and professionals should perform both regularly. Yet non-professionals often confuse these vital services and use the terms interchangeably. The distinctions between them—including purposes, timing, and difficulties—are worth considering so property owners better understand how to maintain trees' health. Moreover, non-professionals should always turn to tree trimming companies for these tasks to protect their safety and trees' health.
Timber Works Tree Care is a leading tree service provider for Middletown, VA, and Shenandoah Valley residents. With years of experience and numerous accolades, we pride ourselves on being the top-rated tree service company in the region. Our team offers 24/7 emergency tree services and handles maintenance tasks you cannot delay. Schedule your service appointment or learn more about our options by calling (540) 254-5773 or visiting our website today.
Below, we outline some critical distinctions between tree pruning and tree trimming:
What is Tree Trimming?
Tree trimming services involve the removal of extra branches to achieve consistent branch size and shape while encouraging healthy growth. After a clipping, tree foliage grows faster and thicker than if left untouched. Additionally, trimming prevents overgrowth, which can overtax a tree's resources. Trimming can also help plants growing close together from crowding one another.
Should I Trim My Tree?
Tree trimming often occurs annually during winter, when foliage is sparse, on young trees and plants. This practice helps guide the trees' development, winnowing down branches as the tree matures and grows taller. Trimming prevents new limbs from outgrowing the tree's capacity and resources, which can result in structural failures or split wood in large-growth trees.
While trimming has many benefits, including preventative damage control for storms and overall health, over-trimming (more than 20% of foliage) can harm your plants. For best results, seek professional guidance, especially for large trees, to minimize risks to your trees and ensure your and others' safety.
What is Tree Pruning?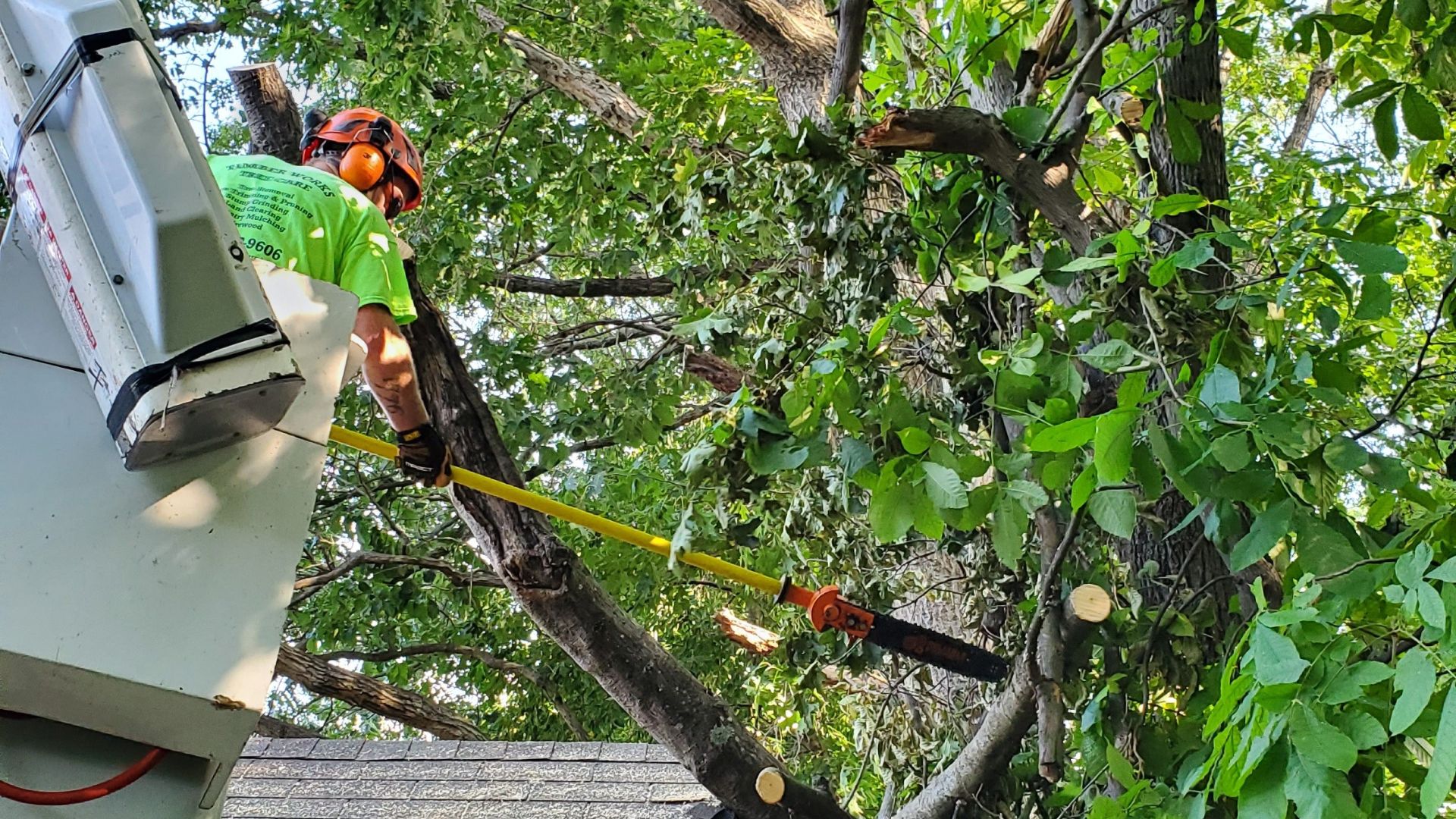 Although it shares some goals with trimming, tree pruning focuses primarily on the plants' health. It involves strategically cutting back live branches to improve tree structure, clearing deadwood, or removing diseased branches. Additionally, pruning increases the sunlight that reaches lower limbs, promoting their health and increasing their fruit output. Since it focuses on trees' health rather than aesthetics, pruning is more complex than trimming.
Should I Prune My Tree?
Corrective pruning ensures trees remain attractive, safe against disease, and lush. Yet as with tree trimming, turn to professionals for pruning services—their expertise can ensure your trees receive excellent care.
How to Determine Whether You Need Tree Trimming or Tree Pruning
Generally, professionals trim trees to correct or maintain their appearance and prune trees to protect or improve their health. Trimming removes overgrown or obstructive branches and allows sunlight to reach limbs nearer to and lower on the trunk. In contrast, pruning removes dead, damaged, or at-risk branches to prevent diseases from spreading. Pruning also reduces the chances of branches falling. This practice encourages new growth, stimulates natural defenses, and ensures the tree's vitality and longevity.
Choosing between tree trimming and tree pruning thus depends on the desired outcome. Appearances can deceive—sometimes, you must have a tree pruned to improve its appearance or trimmed to prevent health issues from developing. Timber Works encourages property owners to seek a tree structure evaluation to determine which service would benefit them most.
Timber Works: One of the Best Tree Trimming Companies Operating in Middletown, VA
Middletown, VA, home- and business owners who feel unsure whether they need trimming or pruning should contact Timber Works Tree Care, one of the best local tree trimming companies. We offer 24/7 services for tree emergencies or maintenance that cannot wait. Schedule your service appointment or learn more about our options by calling (540) 254-5773 or visiting our website today.